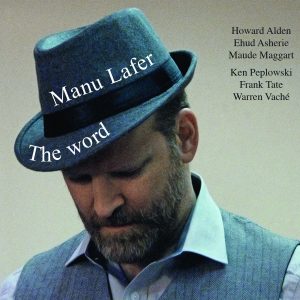 The Word, an album containing a CD with 13 tracks and a DVD with alternative takes for seven of these tracks, alongside surprises from the repertoire and interpretations by Maude Maggart (some as duets with Manu), adapted from high resolution cinema screen format, mainly consist of English versions of examples from Manu Lafer's original works that he himself rewrote, in addition to some new ones, such as the one that lends the album its name.
The reason: to allow them to be interpreted by Maude, a singer with hypnotizing interpretations and the main representative of the new generation of cabaret singers. This is a genre that brings the American songbook, with its pearls and standards, bearing various aspects in common with jazz, but with its own characteristics, always with small groups, theatrical elements and songs with lyrics and from musicals.
Maggart's mentors are the biggest exponents of the genre: Michael Feinstein, originally an archivist and specialist in the works of Ira Gershwin, and Andrea Marcovici.
The instrumental accompaniment was always played live and under the production of Alê Siqueira. The studio recording also counted with the very first time pianist Ehud Asherie, fluent in Portuguese and who knows all about Brazilian music – especially choro and the golden age of the country's radio –, partnered with the person many critics consider to be the greatest jazz guitarist of our times, Howard Alden. This latter is also well-known for his soundtrack for Sweet and Lowdown, by Woody Allen, and for expanding beyond jazz, especially bebop, to gypsy guitar gypsy guitar and to choro, regularly travelling the world to take part in prestigious festivals.
In The Word, Howard plays the banjo and the seven-string guitar, an instrument he is intimately familiar with, having co-authored four CDs with its pioneer, George Van Eps. The arrangements by Alden respect the montage of original Brazilian voices, chords and rhythms, but are invested with the rhythmic and harmonic language, form and improvisation of American music.
The repertoire contains the title track The Word, along with new entries Light and Away (this latter also performed as Perigo, in the DVD). Manu's seminal work, Baião da Flor (1998), inspired by Terra and Saudosismo, by Caetano Veloso, which converses with the tradition of Brazilian artists and their work, is translated as Flower Tune, encompassing the American universe, with its birds and romanticism that are decanted by these standards with which the people of that culture can relate and be moved by.
The CD counts with clarinetist and saxophonist Ken Peplowski in Princess, Golden Mines and Light, trumpet-player Warren Vaché in You And My Dreams and Flower Tune, as well as bassist Frank Tate. The DVD, also shown and broadcast in high definition at special events, was filmed at cinema quality and directed by award-winners Juliano Salgado (O Sal da Terra, for which he got an Oscar nomination), Stefano Capuzzi (A Grande Vitória) and Fillippo Capuzzi (Internet: O Filme), edited by Déo Teixeira (who directed Manu's first DVD, A Lente do Homem, 2008).