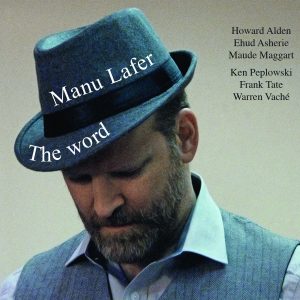 The Word, álbum contendo CD com 13 faixas e DVD com 7 dessas faixas em takes alternativos, com surpresas de repertório e interpretação a cargo da norteamericana Maude Maggart (algumas em dueto com Manu), adaptado do formato de tela de cinema em alta resolução, reúne em sua maior parte versões em inglês de obras da discografia autoral de Manu Lafer, feitas pelo próprio autor, além de algumas inéditas, como a do título.
O motivo: possibilitar que elas fossem interpretadas  por Maude, cantora de voz e interpretação hipnotizantes e principal representante da nova geração da cabaret music. Esse é um gênero que traz o chamado American Songbook, com suas pérolas e seus standards, tendo diversos aspectos em comum com o jazz, mas com uma característica própria, sempre com formações pequenas, elementos de teatro, de canto lírico e dos musicais.
Os mentores de Maggart são os maiores expoentes do gênero: Michael Feinstein, inicialmente arquivista e especialista na obra de Ira Gershwin, e Andrea Marcovici.
O acompanhamento instrumental, sempre em versões ao vivo, sob a produção de Alê Siqueira, é feito pela parceria, até então inédita em estúdio, entre o pianista Ehud Asherie, fluente na língua portuguesa e profundo conhecedor da música brasileira – principalmente do choro e da época de ouro do nosso rádio – com aquele que é considerado por muitos críticos o maior guitarrista de jazz da atualidade, Howard Alden, conhecido pela trilha de Sweet And Lowdown, de Woody Allen, e por transitar do jazz, particularmente do beepob, à gypsy guitar e ao choro, excursionando regularmente pelo mundo todo para participar de prestigiados festivais.
Em The Word, Howard toca a guitarra de 7 cordas americana, que ele conhece como coautor de quatro CDs com o pioneiro George Van Eps, e banjo. Os arranjos feitos por Howard Alden respeitam a montagem das vozes dos acordes e os ritmos brasileiros originais, mas são investidos da linguagem rítmica, harmônica, de forma e de improviso da música americana.
No repertório estão a faixa título The Word e as inéditas Light e Away (esta também cantada como Perigo, no DVD). A obra seminal de Manu, Baião da Flor (1998), inspirada em Terra e Saudosismo, de Caetano Veloso, e que dialoga com a tradição de obras e artistas brasileiros, é vertida como Flower Tune, abrangendo o universo americano, com seus pássaros e romantismo que são decantados por estes standards com os quais as pessoas daquela cultura se relacionam e emocionam.
O CD conta com o clarinetista e saxofonista Ken Peplowski em Princess, Golden Mines e Light, com o trompetista Warren Vaché em You And My Dreams e Flower Tune, e com o baixista Frank Tate. O DVD, também realizado e veiculado em eventos especiais em alta qualidade, filmado com qualidade de cinema, é dirigido pelos premiados Juliano Salgado (O Sal da Terra, que concorreu ao Oscar), Stefano Capuzzi (do premiado longa A Grande Vitória) e Fillippo Capuzzi (Internet: O Filme), com montagem de Déo Teixeira (que dirigiu o primeiro DVD de Manu, A Lente do Homem, de 2008).