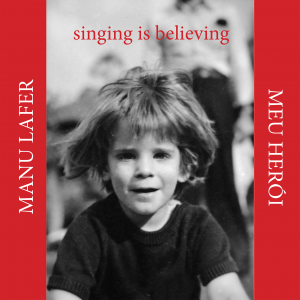 Meu Herói is the title track of Manu Lafer's album. This project brings the delightful meeting of a wide range of musicians of different backgrounds and experiences, from North and South America, all having their own distinguished solo careers and many of them being also teachers and educators. They are mostly old partners of the artist, whose first work came out at the end of the 1990s. The repertoire comprises songs about love and nature, a some of them songs for children that are playful and mystical. In the words of Judee Sill, a popular artist from the 1960s and 1970s, who wrote The Lamb Ran Away With The Crown, they could be an innovation in the sense that "Good vanquishes Evil". The songs have in common a poetic and mystical vision of the world. The album has a colloquial, groovy and natural style.
This collection contains 7 previously unreleased songs penned by Lafer, besides the title track: O Sabiá E O Avião (defined byone of the musicians as evocative of Milton Nascimento's band Clube Da Esquina); Apresentação; Brasil Com Zayin (Pau Brasil); Lior and Portal. 5 re-recordings can also be found, injected with freshness and originality. These have been made possible by the arrangements of producer, bassist and Brazilian 7 string guitarist Swami Jr: A Fina Flor Da Rapiocagem; Retrato Da Mulher Amada Bebendo Água De Madrugada (both released with the artist and Dori Caymmi's guitar and arrangement; Luz (previously recorded in English, titled Light and sung by Maude Maggart); Frum and Salmo 139 (both released originally for the American market.
The artist continues in his approach as an interpreter, here, through Josie, by Donovan, the Scottish composer, folk singer, guitarist and 1960s pop star who went with the Beatles to India; through The Lamb Ran Away With The Crown, composed and originally interpreted by Judee Sill, who we mentioned and was successfully produced by Graham Nash; Western Lullaby, by Wendy Waldman, the exquisite singer and guitarist who was with Leonard Cohen before going on to a successful solo career and who wrote the line that became the album's inspiration, "singing is believing"); Hasbrook Heights, by Burt Bacharach and Hal David, recorded by Lafer on two previous occasions and a mainstay of his set list; and Chanson Pour Les Enfants L`Hiver, a children's song by Joseph Kosma and Jacques Prévert, in French, the tongue of his lyricist and poet.
The special guest appearances, as duets, were made by Brazilian vocalists – Verônica Ferriani interpreting Luz and O Sabiá E O Avião, in Portuguese, while Georgia Besen interpreted HaYadata Et HaDerech and Lior, in Hebrew. In English the duets are by: Hilary Gardner in Josie, The Lamb Ran Away With The Crown and Western Lullaby, while  Annie Moore, a descendant of Schumann's and music teacher for children, in Hasbrook Heights.
The Brazilian musicians involved are, as mentioned previously, the protagonists of solo, educational and original work, especially in instrumental music and music production: arranger and producer Swami Junior (six and seven string guitars and electric bass), Fabio Tagliaferri (viola and ukulele), Alex Duarte (drums) and Alexandre Fontanetti (Hawaiian guitar). The inlay information also contains standout studio and gig instrumentalists, while Salmo 139 features a delightful brass arrangement by Maestro Tiquinho.
The same can be said for the American musicians: percussionist Bashiri Johnson, the biggest name for his instrument, credited in studio recordings of such artists as Laura Nyro and Michael Jackson, for example, acoustic contrabassist Martin Wind, accordionist Sam Reider and guitarrist and multi-instrumentalist Justin Poindexter.
Meanwhile, the guest instrumentalists count with Brazilians like Neymar Dias (a country guitarist with pieces dedicated to Bach and the Beatles), as well as Americans, like Ehud Asherie (piano), Ken Peplowski (clarinet and tenor saxophone) and Bruce Molski (banjo and violin, who is also a professor at Berklee).