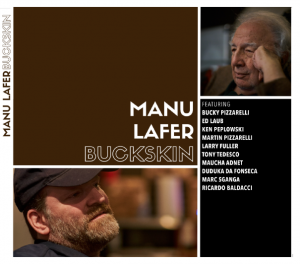 Manu Lafer – 2018
Buckskin, the title of the CD, was the childhood nickname of Bucky Pizzarelli, aged 91 when the album was released and one of the biggest legends in jazz, a specialist with the seven-string guitar and owner of a unique style in the instrument pioneered by George Van Eps, as well as in swing jazz with the six-string guitar of Freddy Green and Charlie Christian. Bucky accompanied everyone from Benny Goodman, Julie London and Frank Sinatra to Paul McCartney, as well as playing theatrical presentations for Stephen Sondheim spectacles. On television, he played for Johnny Carson and Skitch Henderson.
As a studio musician, he recorded many of the pop hits in the 1960s and jazz records with guitarists George Barnes, Tal Farlow and Wes Montgomery, among others, before starting on a prolific partnership with saxophonist Zoot Sims.
Produced by bassist Martin Pizzarelli and coproduced by Brazilian guitarist Ricardo Baldacci (who also plays and sings), this album pays homage to and celebrates the music and joy of performing of Bucky, around whom everyone orbits musically, in these songs and forever.
The band for the swing repertoire is based around the drums of Tony Tedesco, a common figure in Woody Allen's films (as was Bucky himself), the bass guitar of producer Martin and piano of Larry Fuller, with the participation of clarinet and saxophone virtuoso Ken Peplowski. Manu shares the vocals for most of the tracks with Ed Laub, who would often perform as part of a duo with Bucky on the seven-string guitar. Laub has one of the most expressive voices of modern times, reminiscent of Arthur Prysock, in addition to being the author of the seminal CD Soft Guitar, which pays homage to a huge lover of Brazilian music, Kenny Rankin.
Martin and Bucky (who recorded Terra Brasilis, by Tom Jobim) interpret Tom Jobim's bossa-jazz (Wave, Estrada Branca) with Duduka da Fonseca on the drums, Marc Sganga on nylon string guitar, and the participation of one of Brazil's biggest female singers, Maucha Adnet, who is part of the groups Céu da Boca and Banda Nova de Tom Jobim, together with Danilo Caymmi, Manu's long-standing collaborator.
For the instrumental repertoire, in addition to a medley of guitar solos by Bucky (Easy to Remember and This Nearly Was Mine, both by Richard Rodgers), one of Bucky's pearls, Take Ten, soloed by Ken Peplowski in the style of himself and Zoot Simms and accompanied by the voice of Manu, in addition to his guitar, in Um Abraço nos Pizza, dedicated to the Pizarellis (originally recorded for the CD Mané Mandou, with Lincoln Olivetti providing the brass arrangement). In Canto Casual, the album by John Pizzarelli that celebrates the 50th anniversary of the LP by Sinatra and Tom, John Pizzarelli and Jessica Molaskey use lyrics by Manu in songs they wrote, allowing them to pay homage.
In the American repertoire are several numbers from the Bucky-Ed Laub duo (Bennies/Pennies From Heaven, Love Walked In), some lesser-known songs (Caroline, by Randy Newman, Fishing Pole, in a rare version with lyrics, in addition to the famous whistling on Amercian television) and two gems from the ingenious Brian Gari (Yvette and Slow Moving Sam). Note should be made of the work by engineer Bill Moss, who provides a linearity and spontaneity to the repertoire, by the project's encompassing and ambitious team and musical style, ensuring that a sweet journey is had by listeners' hearts, minds and souls.
Brian Gari/NYC – Fall 2017
A few years back I received an email from a person I had never heard of before. It was very complimentary of my music (as well as my uncle's, Robert Clary.) The person lived in Brazil and at first I thought it was a joke. A fan from Brazil? Yes, I did do a Brazilian album several years ago ("Here I Come Brazil"), but I truly didn't think very many people were paying attention. Well Manu Lafer was. He included a YouTube video link so I watched it. I was amazed by his talent. This guy was for real. It started a friendship that has resulted in several collaborations both live and on CD. The latest is what you are listening to right now.
"Yvette" is a song I wrote 40 years ago. It was always a staple in my act and I did record it on my Brazilian album. However, Manu's version (with the help of extremely talented instrumentalists like Marc Sganga on guitar) is extremely authentic in its Brazilian jazz style. I have been a recent collector & admirer of the late Chet Baker & the trombone (courtesy of Bruce Bonvissuto) heard on this recording reminds me of Chet. The whole track is a wonderful homage to my hero, Joao Gilberto.
It doesn't stop there. How wonderful to hear Ed Laub's great vocals on a wacky song I wrote in the 70s called "Slow Movin' Sam." I never dreamed it would come out on an album like this!
The title of this album is called "Buckskin" for a reason…Bucky Pizzarelli is here playing his 7 string guitar on many tracks including his own composition "Take Ten." I actually was on the bill with Bucky at a small jazz club called Soerabaja on New York's upper east side when I was all of 20 years old. I think Bucky was leery of this upstart until he heard me play my classical guitar & saw I was quite serious about being a musician & not just a folkie who knew three chords.
One of my favorites on this album that I had never heard before was a parody of "Pennies From Heaven" called "Benny's from Heaven" with a lyric by the late Eddie Jefferson. Sadly, he was murdered leaving a jazz club when he only 60 years old.
In trading songs with Manu over the last several years, I sent him a song called "Bossa Nova" written & performed by Kathe Green, a writer I met at a Jimmy Webb concert in 1971. We performed together for a while. She even introduced me to her father, the legendary Johnny ("Body & Soul") Green. What a surprise when I found he & Maucha Adnet did such a beautiful job resurrecting the original by Kathe.
I was also pleased to see Manu chose two Jobim compositions; "Wave" and the more obscure "Estrada Branca," which was also recorded by Kenny Rankin under its English title "This Happy Madness."
Manu does do some digging into the obscure…I mean how many people have recorded a vocal version of the theme to The Andy Griffith Show ("Fishing Hole")? Or a Doris Day 1947 tune by Mel Torme, Robert Wells (Yes, the guys who wrote "The Christmas Song…Chestnuts Roasting On An Open Fire") entitled "Tacos, Enchiladas and Beans."
It was also nice to see Randy Newman's "Caroline" has been included with Larry Fuller honoring Randy's piano arrangement. The song had been written specifically for Harry Nilsson when he did the Nilsson Sings Newman album in 1970. Nilsson did over 100 takes and 118 overdubs. I hope Manu didn't have to work that hard!
Let's not forget Manu's own composition & guitar work that is so exquisite on "Um Abraço Nos Pizza." How can he do it all?