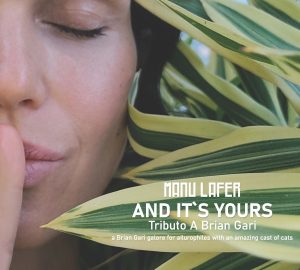 This tribute to the American songwriter Brian Gari was produced by Swami Jr. Manu Lafer handles the vocal chair, accompanied by jazz legends Howard Alden, on the 7 string electric guitar, and Jack Wilkins, also on guitar, and some very special guests.
Brian Gari, a New Yorker who has composed more than 800 songs over the course of his career spanning 50 years, is beginning the celebrations for his upcoming 70th birthday.
Gari has been recorded by Margaret Witing, Lesley Gore and Steve Ross, among others. He is the grandson of one of American's biggest entertainers, Eddie Cantor, and also the nephew of the American TV star, Robert Clary, a concentration camp survivor.
The tribute's repertory comprises 6 new songs and 7 covers. Kathe, one of them, is performed as two different tracks, to include Lafer's Portuguese version, Amizade Cinza.
The album was arranged and produced by acoustic 7-string Brazilian guitar player Swami Jr. (Buena Vista Social Club musical director). He reproduced the characteristic pop piano style of the songwriter, while introducing a jazzy and Brazilian approach.
The band is completed by Sylvinho Mazzucca (acoustic bass) and Alex Duarte (drums).
The guests, both American and Brazilian, are the vocalists Annie Moore, Hilary Gardner, Justin Poindexter & Sasha Papernick (Our Band), Georgia Besen, Luciana Alves, Mark Lambert, Ana Deriggi, and Sam Reider.
Other guests are jazz legend Ken Peplowski, on the clarinet, and Brazilian international jazz star Chico Pinheiro, on the guitar. Peplowski has released an album with Lafer and is widely considered the heir to Benny Goodman, having actually worked with him.
Gari's music, with his originality and vast knowledge of jazz and American pop (he is both a collector and an expert), along with his talent, challenge the frontiers of musical styles and countries, and were here enhanced by the aforementioned jazz virtuosos Alden and Wilkins.
Brazilian music is especially important for Gari, who devoted one of his projects to the country (Brazil Here I Am) and is a recurring partner of Lafe's.
We have to single out an American who began his career as a sideman for such acts as Phoebe Snow and Astrud Gilberto, and moved to Brazil to pursue his solo career as a guitarist and singer, Mark Lambert.