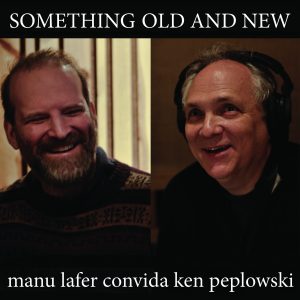 Em Something Old And New, Manu Lafer tem como convidado de honra o clarinetista e saxofonista tenor Ken Peplowski. Ken é o mais conceituado divulgador da obra de Benny Goodman, com quem trabalhou, além de desenvolver uma prolífica carreira como solista globe-trotter (inclusive visitando o Brasil) e de acompanhar nomes que vão de Madonna a Mel Tormé.
No entanto, Manu é quem acabou como "convidado do convidado", que concebeu e propôs esse grande passo na colaboração que já vem de três álbuns anteriores de Manu: Trip The Light Fantastic (American Songbook), The Word (autoral) e Buckskin (tributo a Bucky Pizzarelli).
Peplowski responde não apenas pela produção musical, mas também pela seleção do repertório. O título Something Old And New veio da canção Junk, de Paul McCartney, escolha do beatlemaníaco Ken, que levou as gravações para o estúdio Trading 8s, de New Jersey, onde foram cuidadosamente gravadas pelo engenheiro Chris Sulit (conhecido colecionador de Grammys),
Ken trouxe o seu quarteto, do primeiro time do circuito de jazz, completado por Matt Wilson (bateria), Martin Wind (baixo) e Ehud Asherie (piano). O violonista Paul Meyers foi convidado para as faixas gravadas com a formação de jazz. Nas faixas com linguagem folk e blue grass o acompanhamento ficou a cargo da dupla Justin Poindexter (violão de aço,  guitarra, banjo, slide) e Sam Reider (sanfona). A viola de arco e os vocais de Valentina Shoddy completam os arranjos.
No repertório, uma seleção composta por canções mais conhecidas, como o standard Remember, de Irving Berlin, primeiro cantada na divisão e na harmonia pessoais de Manu, depois apresentada em tom de bossa instrumental que lembra as de Henri Mancini, ou de autores mais conhecidos, como Harry Nilsson (Without Her) e Bob Dylan (The Girl From The North Country) além do já citado Paul McCartney, e também por canções de autores menos óbvios, como Firefly, The Girl Who Fell In love With The Moon e Ghosts, feitas pelos irmãos Wilson (da banda pop Grand Drive), Boo Hewerdine e Jesse Winchester, respectivamente. Todas essas canções foram enriquecidas pela sensibilidade de Ken e pelo entrosamento entre os músicos.
O trabalho vem avalizado pela a participação de John Pizzarelli, parceiro de longa data de Manu, que o tem divulgando no seu programa Radio DeLuxe (apresentado com a cantora Jessica Molaskey) e foi parceiro na música Canto Casual (presente na discografia de Manu e no cd comemorativo dos 50 anos do LP Sinatra e Tom, tributo de John Pizzarelli). Sua guitarra de 7 cordas está presente em Pretty World (versão de Sá Marina, sucesso nos anos 1960) e I've Grown Accustomed To Her Face – nesta, John também canta com Manu.
Something Old And New é uma oportunidade rara de ouvir um artista brasileiro cantando uma seleção original do repertório americano, com arranjos criativos executados por expoentes em seus instrumentos, junto a um astro do jazz em incursões livres pelo seu gosto musical.
A alegria da foto da dupla na capa (por Fernanda Faya) corresponde ao clima musical do disco e do histórico de muitas colaborações.