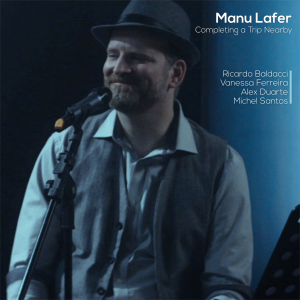 O compositor, cantor e violonista Manu Lafer, que gravou seu primeiro trabalho autoral em 1998, tem uma antiga paixão pelos standards americanos, iniciada em seu CD Grandeza de 2005 com a gravação da canção conhecida na voz de Billie Holliday Me Myself And I e desenvolvida em projetos exclusivamente dedicados a este repertório: Someone Like You (2012), Trip The Light Fantastic (2016), Nobody But You (2018) e Buckskin (2018). Manu tem colaborações com John Pizzarelli e Jessica Molaskey, na parceria Canto Casual, gravada por Manu com a guitarra de John e por este no cd comemorativo dos 50 anos do lançamento do álbum Sinatra e Tom, Howard Alden, Ehud Asherie e Maude Maggart (esses no cd The Word, 2016, com versões em inglês de canções próprias) bem como Ken Peplowski, Chuck Redd, Bucky e Martin Pizzarelli, Warren Vaché e com o sapateador Steve Zee (no clipe Esmalteca), entre outros.
Manu é coautor com o guitarrista Sandro Albert do projeto e da banda Run N' Fly, que contou com Omar Haquim e Bashiri Johnson.
O trabalho de estúdio Trip The Light Fantastic, que evoca uma expressão antiga para "dançar" retirada da música infantil East Side, West Side, gerou uma temporada de shows na casa Tupi Or Not Tupi, um local que tem simbolizado a música, o som e o público de qualidade de São Paulo.
É esse trabalho, com direção musical e guitarra de 7 cordas de Ricardo Baldacci, baixo acústico de Vanessa Ferreira, piano de Michel Santos e bateria de Alex Duarte, que está registrado aqui. Há 3 peças músicas autorais: Depressa, Amor; Te Conheço e Cara Lavada, totalmente integradas à linguagem dos standards, sempre escolhidos com qualidade e originalidade, como a pérola Hasbrook Heights, de Burt Bacharach e Hal David, ou High Is Better Than Low, de Arthur Schwartz e Howard Dietz.
Um jazz brasileiro e charmoso.